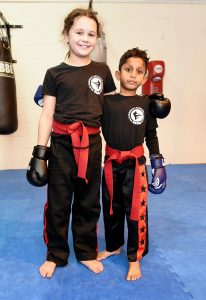 Why Choose Kickboxing?
Why opt for Kickboxing?
Right from the age of four, our Kids Kickboxing and Martial Arts club in Cardiff advocates quick progression in a safe surrounding. With Our Kids, Junior and Teens Classes, as well our Ladies Only Kickboxing, there is much fun, structured and technical curriculum to give the best improvement.
We help build and develop self discipline and confidence. With our training, your kids get over insecurity and shyness. Our classes offer personal training in a friendly manner, making your kids fit and healthier with the right kickboxing training.
Classes include a wide variety of exercise from Warm-up, Skipping, shadow boxing, basic and advanced punch combinations, heavy bag workout, focus mitts, slipping and rolling, partner drills, abs and core work. Working through a syllabus for each belt grading.
Kickboxing is enjoyed by millions of people around the world.
How to get started
To get started you will need to contact Jason at the Noble Art Boxing Fitness Cardiff by either email:
info@nobleartboxing.com or telephone: Jason on 07977 106213