1. Why I decided to take up WCB
"Always had a keen interest in boxing and fascinated with knowing the emotion and adrenaline rush that a boxer felt in the ring.
I'm a very goal orientated individual and so WCB gave me the drive to get fit and challenged my motivational skills."
2. Benefits/health/fitness
"I was a smoker and WCB gave me the focus to stop in January until the fight night which was June 12th as this would enable my fitness to be at its best, I lost body fat and converted it to muscle and reduced inches off my waistline!!"
3. Why Noble Art Boxing
"Although I had used NAB in the past for general fitness the challenge ahead required more 1 to 1 boxing training i.e. skills, mental approach, high level of endurance/fitness…I don't believe that any other gym in Cardiff offers the hands on training required for a novice for such a big challenge and having Steve Robinson (7 times World Champ) and Jason Orchard (experienced boxing coach) at your disposal cements the confidence required to do such an event.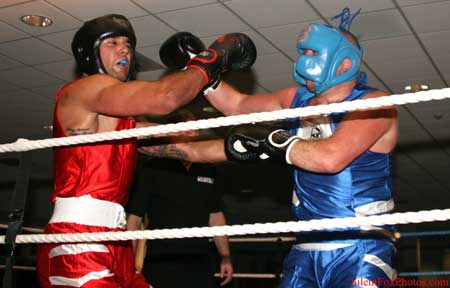 There are two different sized rings available which means that you get used to all angles of the sport, a large amount of punch bags and other required equipment to get you in shape, also the sparring that is involved is very well organised and supervised by the team at NAB."
4. Managing time
"This is probably the biggest commitment and one that any WCB contestant has to get right, nothing prepares you for the night and the more you spar/train/talk to the pros available the better prepared you will be, I trained 3 mornings a week for the first 4 months and then stepped it up to 5 for the last few weeks, also I attended the 2 fight nights per week that were arranged with all the other contestants, I am a director of a large national firm of Financial Advisers and so client meetings were made around my training…my clients would have been unaware of this apart from some of the black eyes!!
I made the decision to do this and arranged my diary around it…early starts helped!!"
5. Business benefit
"Certainly being fitter and challenging yourself out of your normal working life gives you a huge surge of energy and transferring that feeling into the business was awesome! I was more focused and sharper.
Ultimately, the feeling that hits you after the event is amazing, and I can only thank all at the NAB for the opportunity to box in a controlled environment with a professional set up."
John Karamousiz